Introduction
Sales pipeline management is also referred to as sales funnel management. It is a process to measure and manage the health of your sales pipeline.
As per HBR report, companies with a structured sales pipeline management reported 28% higher growth in their sales revenue.
Capabilities & Features
HappSales CRM offers the most comprehensive and powerful set of capabilities to help you accurately measure and improve your sales pipeline. It lays the foundation for you to run a highly predictable business.
Measures Most Essential Parameters
No. of deals or opportunities in the pipeline
Deal value
Deal closure probability or confidence level
Opportunity Stage
Sales cycle or days taken for deal closure
Total sales pipeline vs weighted pipeline
Rolling 4-quarters pipeline
Sales velocity management
Compares Total Sales Pipeline v/s Weighted Pipeline
Total sales pipeline, as the name suggests, is the total value of all the deals in your sales pipeline during a specific period of time.
Measuring total sales pipeline may not be an efficient way to look at the health of your sales funnel as it does not consider the closure probability of the deals. This is why companies also prefer to measure the weighted sales pipeline.
Weighted sales pipeline is the weighted average of all the deals in your pipeline. It is calculated by considering the closure probability or the likelihood of a deal to close during that period.
Here is an illustration that depicts the difference between the two. You can see in the below table that the total sales pipeline is 1300K for 10 deals in your funnel. However, after considering the respective closure probabilities, the weighted average of the pipeline is now 800K. This weighted average, or the weighted sales pipeline value, is a more realistic depiction of the health of your funnel.
Using this analysis, you can now have a more accurate sales forecast required to run a predictable business. You can compare this with the verbal sales forecast provided by your sales team members for a better assessment.
Sales pipeline and weighted pipeline are leading indicators in sales.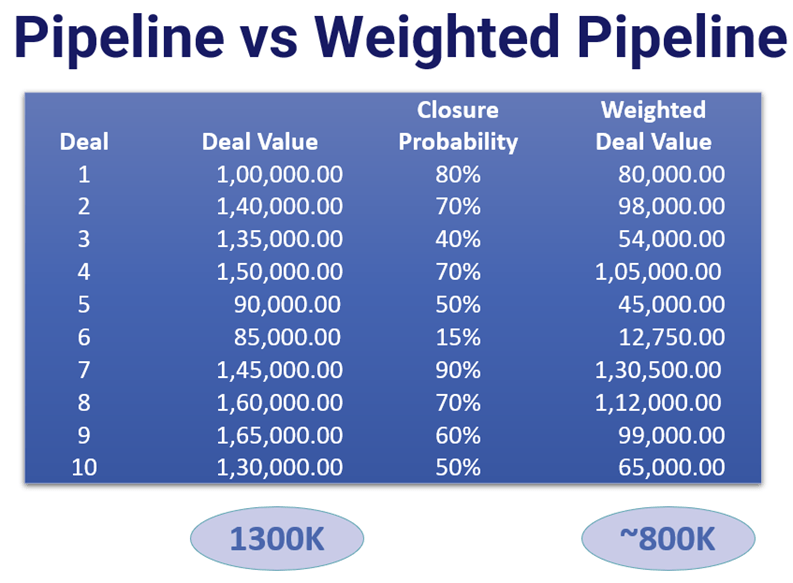 Depicts Rolling 4-Quarters Pipeline
HappSales CRM automatically calculates the rolling 4-quarters pipeline. It depicts your sales pipeline for four consecutive quarters starting from the current quarter (CQ). Along with the current quarter's sales pipeline, it will also show you the pipeline for subsequent three quarters – CQ+1, CQ+2 and CQ+3.
It is one of the most powerful leading indicators in sales.
It is effective when you measure this metric consistently and then take the right decisions to bridge the gap.
Benefits of using HappSales
Better sales forecasting
With HappSales CRM, you can improve your sales forecasting. It is the cornerstone of running a predictable business. A clear visibility into the sales pipeline and weighted pipeline will help you achieve this objective. You can forecast your deal closures with better accuracy and accordingly adjust your business plans.
Measuring right metrics for better sales performance
It is critical for companies to measure the right sales parameters listed above. This makes sure that you do not dilute your team's attention and they will be able to channelize all efforts to meet the most-important objectives. As a result, you will witness a significant boost in sales performance.
Informed data-driven decisions
You will now be able to make effective business decisions based on accurate and reliable information. Your team will not rely on intuition. With all the right data available to them, your sales team can take proactive steps to mitigate risks for better outcomes.
Consistent lead generation and pipeline building
Powerful dashboards like the rolling 4-quarters pipeline will help you predict your sales performance in the coming quarters. You will be able to accurately measure the pipeline gap, identify trends, and plan your campaigns better. Consistent lead generation to bridge this gap will improve the health of your overall pipeline.
Effective performance reviews
With the HappSales CRM performance review section, you will be able to analyze the sales pipeline performance of all your sales team members. You will get to assess which of your team members are doing the right things to build their pipeline. For the rest, you can guide them to bridge the gap and help them achieve their targets.
Resource optimization
Having a clear understanding of the sales pipeline will help you make the right decisions to optimize your resources. You can allocate the right resources and budgets to build pipeline based on geography, product-line, sales team, etc. This will help you maximize the return on your marketing investments, drive revenue, and improve profitability.